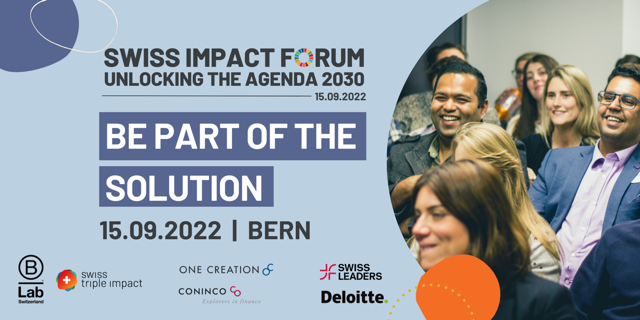 ONE CREATION is delighted to be a supporting partner of the Swiss Impact Forum together with Danone, Coop, Nespresso, Oeko Tex and Semadeni as well as Swiss Leaders and Deloitte as main event partners.
The Swiss Impact Forum intends to be the point of convergence for the various engagement initiatives carried out by B Lab Switzerland.
It brings together STI participants, B Corps, allied and partner organizations and offers national visibility to the actors of the Swiss economy committed to achieving the Sustainable Development Goals (SDGs) of the 2030 Agenda.
This is a great moment to share views on the issues surrounding environmental innovation, a theme which is at the core of ONE CREATION investment drive.
We look forward to meet you there !!