ONE CREATION is honored to have the opportunity to showcase some of its promising companies at the Creative Impact e-pitch sessions organized by ScaleUp Factory, Bpifrance and EuroQuity on December 3rd, 2021.
We would like to invite you to register using the links provided in the program hereafter for each session you intend to follow. We look forward seeing you on-line!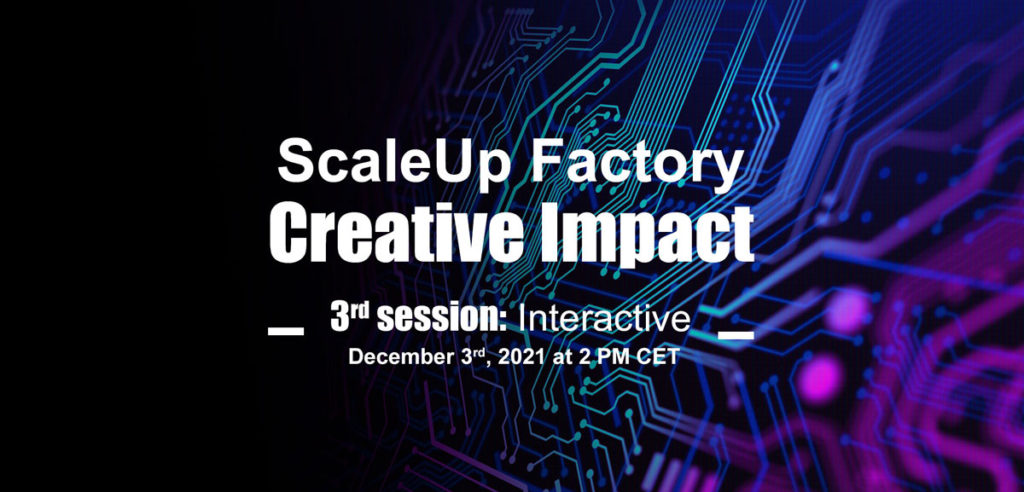 ScaleUp Factory, OneCreation, Bpifrance and EuroQuity are pleased to invite you at the Creative Impact e-pitch session, which will take place on December 3rd, 2021 starting at 9:45 am CET.
Don't miss keynotes from upcoming European giants and discover hand-picked future European Scale-ups both in Clean Tech (mobility and energy) and in Creative Tech (AI, creative industries, media tech, lifestyle and digital).
These startups have been divided into 4 pitch sessions (Mobility, Energy, Interactive and Audiovisual+) following a 6 min pitch + 3 min Q/A format. Most of them are closing their financing round by the end of the year, so it is the last opportunity to hop on board!
The program is as follows and don't forget to register:
1st session: Mobility  
3rd December at 9:45 am CET  
Keynote of Fabien Jordan, CEO of Astrocast (IPO Euronext Growth Oslo): mobility on earth from space!
Pravaig (EVs battery, B2B mobility as a service) 
Pravaig is an Indian & French B2B deep tech batteries and mobility as a service start-up from Bengaluru. Pravaig owns one of the world most efficient EV battery, which notably powers its future EV « The Pravaig Extinction » with outstanding performances (504 Km of range charge to 80% in 30 minutes, 196 km/h top speed, 0-100 km/h in 5,4 sec, power output of 150 KW). The release of the « Extinction » is planned for 2022. Pravaig empowers corporates with attractive EVs (mobility as a service) in India and beyond | €6M sought to complete the factory, preceding a €60M round – France & India
Enuu (EVs, micro-mobility as a service) 
We offer 100% connected Epods (very small electric vehicles with 4 wheels and a full bodywork – passenger AND cargo) in shared systems to help our B2B clients and the world (in B2B2C systems) access affordable and sustainable micro mobility – safer and more comfortable than ebikes and escooters. With over 10 existing customers and over 100 vehicles deployed in Switzerland, we are surpassing $1M revenue in 2021. We are currently expanding to Germany. We raised $2.4M to date with VCs, PEs and BAs. | $5M sought – Switzerland 
Woodoo is developing augmented wood materials for the consumer, automotive and building material space. The mission of Woodoo is to win the fight for decarbonization and against climate change. Woodoo is the most awarded early-stage company in Europe (41 awards), holds 44 international patents and has collected a €2,1Bn commercial pipe through 489 companies, 100% inbound | 15M€ sought – France
The founding of Tyre Recycling Solutions SA came as the result of an observation: the current scrap tyre recycling solutions available are wasteful, inefficient or even non-existent, and most often not profitable without public funding. To enable a sustainable recycling of the materials contained in scrap tyres, TRS develops proprietary technologies to deliver output products with greater value. TRS processes and treats the scrap tires rubber, so it becomes part of a sustainable circular economy. | 5M€ sought – Switzerland
In partnership with ONE CREATION
2nd session: Energy 
3rd December at 11:15 am CET  
Keynote of Olivier Bucheli (Hydrogen Europe): the future of Energy in Europe!
ExerGo (high-density thermal network) 
ExerGo is a B2B start-up providing utilities and district owners with a patented high-density energy network solution (thermal networks), which revolutionizes heating and cooling in cities (responsible for up to 35% of the global CO2 emissions). The fast-growing start-up thus simultaneously supplies heating and cooling zero-emission energy services to buildings, industrial processes and any heating or cooling user. By doing so, it cuts above 90% of the CO2 emissions of replaced boilers/chillers while cutting 50% of the CAPEX of the network infrastructure (// water-based solutions). The solution is silent and hidden, 6 times faster to install, easily upgradable and directly embeds climatization for heat waves and fire extinction. Demonstrator plant: currently finalizing a €3,4M network / Deployment: enabled win of customers for €100M+ with ExerGo's backlog up to 10M€ | €3M sought (seed) before Series A in Q3 2022 of €15M – Switzerland
Depsys (grid optimization)
Depsys provides utilities with the use of smart devices and digital tools hat accelerate the digitalization of their distribution grids, making them more resilient and adapted to the challenges of growing, decentralized energy production and consumption. We won numerous technological and economic distinctions (Frost & Sullivan, Watt D'or, Solar Impulse, SEF, Energy awards, etc.) and we have been awarded contracts with over 45 distribution grid operators around the world. We counts industry heavy weights amongst our shareholders including BNP Paribas, SET Ventures and Statkraft Ventures | €40M sought – Switzerland
Transmutex (reinventing nuclear energy)
Transmutex aims to develop a process first proposed by Los Alamos Laboratory, USA, then experimentally demonstrated at CERN in Geneva under the guidance of Nobel Laureate Professor Carlo Rubbia. It combines a particle accelerator with a subcritical fuel assembly to « burn » long-lived waste while producing carbon-free energy. We are currently studying the possiblity of powering the process with used-MOX fuel to better fit the French fuel cycle. Voted Best Cleantech startup of 2020 in Switzerland (link), Series A investors: Union Square Ventures (USA), AlleyCorp(USA), 4SeeVentures(Switzerland). Transmutex France SAS was established in October 2021. Submitted proposal to the French Ministry of Ecological Transition in November 2021 | €100M sought – Switzerland
Daphné (catalyst for ships)
Daphné is a climate tech startup focused on solving the Greenhouse Gas challenge in tough-to-decarbonize industries. The company cleans emissions from combustion engines at sea and on land. Raised CHF 10 million Series B equity in October with Shell Ventures, Trafigura, AET, and Saudi Aramco Energy Ventures – Follow-on investment by all eight Series A preferred shareholders – CHF 3 million grant award winner from the European Union´s Horizon 2020 Research & Innovation program – Ranked as one of TOP 100 Swiss Start-Ups four years in a row | €5M sought –Switzerland
In partnership with ONE CREATION

3rd session: Interactive (Play, Learn, Thrive) 
3rd December at 2 pm CET 
Keynote of Basile Fattal (CEO of Timo, screenless audio player for kids): paths to lean hypergrowth:
CyborgNest (humanizing the metaverse)
CyborgNest is a Neurotech AR company dedicated to creating new human senses, allowing our brain to expand our perception of reality. Our senses communicate with the vital and most flexible parts of the brain, training it with new information or enhancing the existing one. Our technology allows to humanize the metaverse by providing the users with the sense of direction, emotional tactile communication and heartbeat synchronization. CyborgNest has been featured in articles around the globe, received vast recognition from the scientific community as a thought leader in the new emerging tech world, has generated revenue with two of its products and receives interest for many collaborations | 0.75M£ sought – UK  
Advenworks (gaming, remote mobile gaming multi-studios) 
Advenworks creates and self-publish high-quality mobile games for everyone by fostering & empowering the best video game talents across the world. Founded by two former seniors from Ubisoft, the studio distinguishes itself by its pioneering positioning in the new key Hybrid-Casual segment currently experiencing very strong growth, and its innovative game factory technology and data-driven creative process that accelerate development and limit greatly the production risks. +335% gross revenue y-o-y – 6M downloads on launched games – 3 Games featured by Apple – Games with remarkable metrics (up to 48 min daily playtime) – An international team of 20 people in full remote – Partner at Station F – Accélérateur Jeux Video Bpifrance-CNC | €3.5/4M sought – France 
Nolej (Edtech AI, interactive courseware) 
Based in Hauts de France, Nolej has developed a B2B SaaS authoring tool, using Natural Language Processing (NLP / AI) to automatically transform passive course material (text, audio or video) into an enriched and interactive course. This course can then be easily installed on all e-learning platforms on the market (academic and corporate).
Nolej has just signed 2 paying pilots for the autumn and will launch the commercialization of its authoring tool at the beginning of 2022 in the Anglo-Saxon market, taking advantage of the strong growth of AI in EdTech (CAGR of more than 45%). The start-up has been awarded the Young Innovative Company label, is a member of the "Réseau Entreprendre" and is supported by BPI France for its Research, Development and Innovation (RDI) program. TAM = 2.68B$ | SAM = 160M$ | SOM = 10M$ | CA2020 = 103K€ | Next Step: Seed Funding for commercialization | €0,5M sought – France
Sensae (preventive e-health: automated stress management, personalized haptic feedbacks) 
Developing a haptic technology enabling to communicate to the brain through touch and interface with emotions. GTM – Mental Wellness focus to validate the technology. The first product is a wearable that provides active biofeedback by combining key bio-signals from the user (heart rate variability, perspiration, blood oxygen level, temperature) with advanced Machine Learning/AI to Proactively apply personalized vibrotactile touch stimuli to prevent stress build-up and provide tailored coaching enhanced by affective haptics. MVP released – Patent pending on touch personalization – 200 people in beta program – traction with Therapist and Coaches B2B2C + strong interest with Corporate Wellness platforms B2B. Winner DTU Startup Day Copenhagen 2021 | €2.5M sought – Denmark
In partnership with Level-Up   
4th session: Audiovisual+ 
3rd December at 4 pm CET
Keynote of Utopia Music: the emergence of new data-driven European giants!
Largo.ai (B2B AI for film & adtech) 
Largo.ai provides data-assisted intelligence to the audio-visual industry with the proprietary technologies that show the recipes to success. Our powerful AI engine has a cognitive pattern understanding system from video, audio, and text. The system converts these cognitive patterns to meaningful insights for the movie producers, writers, and distributors. | Best Start-up at 67th San Sebastian Film Festival, Berlinale Horizon Start-up 2020, Top 100 Start-up Switzerland, Slush Top 15 Start-up 2019 | 100+ B2B Customers | €3M sought – Switzerland
Qwest TV by Quincy Jones (OTT, TV 3.0, music in video)
Based in France and co-founded by a legendary American music producer, Qwest TV is part of the explosion of the global video streaming market. Offering 3 thematic music TV channels and 1 subscription-based replay platform with 2,000 hours of programming (concerts, documentaries, and original productions), Qwest TV is in a B2B expansion phase. It has started to deploy with 5 of the world's largest operators (Samsung, Comcast, Roku, Huawei, LG) in more than 50 countries, already reaching more than 11M unique viewers each month. With its dedicated education offering, it has also convinced more than 220 universities including Harvard, Stanford, and Yale. Post-revenue / YoY growth: 2.5X TAM: $5B / SAM: $500M / SOM: $50M. Next Steps: 18 contracts in the pipeline for 2022, support growth by strengthening technical team and ensuring US business development | €3M sought – France
Synchronized (AI video AdTech for OTT)
Synchronized In-Video Intelligence platform transforms linear video into 'Smart-Video' making videos as flexible and powerful as hypertext. A machine learning turnkey solution, central hub for all in-video auto-generated time-coded metadata, objects and assets for broadcasters, OTT and video content owners. Our AI engine understands the content and context of a video and enriches it with metadata. This allows clients to automate workflow from linear-tv to digital offers, deliver rich & personalized end user-experiences and fast-track promotional content creation as well as benefiting from an unprecedented level of granular data around their video content. Synchronized is one of the ten first companies worldwide to be awarded AWS AI/Machine Learning Competency by Amazon Web Services and to be selected as AWS Media Intelligence Global Solution launch partner. Synchronized is also Media Partner of Atos and Ateliere with clients like French broadcasters TF1 and M6 | €750k sought – France & UK
Mod Devices (music phygital platform, creative coding) 
MOD Devices drastically improves the lives of forward-thinking musicians by creating a platform for live audio processing that embraces the digital mindset to empower the musicians' creativity, while making their lives easier at the same time.  The company has a hybrid business model divided into sales of hardware devices and commission on sales of 3rd party software via the platform Plugin Store. | Winner of Wallifornia Music Tech Prize. Winner of the Belfius KIKK Prize. Finalist of Sonar+D Start-up competition | Product funded on Kickstarter in 19 hours | Currently part of Top 3 best sellers on Thomann – Europe's biggest online musical instruments retailer | Used and praised by top-tier musicians like Modeselektor | ARR €600K in 2021 | €0.5M sought – Germany
In partnership with Level-Up